Over the past years when I had no time for doing Yoga, I used to rely on these CAF exercises for comfort and good health.
They are so simple and quick and less time taking!
The benefits are fantastic. You get a good stomach
with strong muscles so that you can eat any thing and get good digestion !


Please follow these exercises !
But DONT OVER DO any !!
STOP! OVERENTHUSIASM !

Start Slowly, Pick up Faster, Regularise
and Be Moderate always...Find what fits you
and stay there comfortably!

Do in empty stomach OR 30min to 60 min after drinking a glass of milk.

Warnings: If you have had any surgery on the spinal cord or stomach or piles surgery, hernia,Caesarian etc.

PLS. AVOID IT!

If You have doubt, write to me and confirm
before starting to do : dpsfd2004@yahoo.com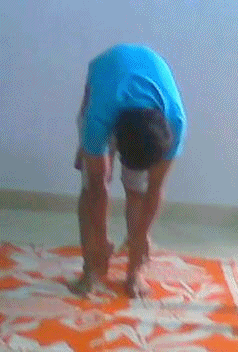 the above is a moving GIF picture -
or animated GIF-
and it changes in 30sec !

(note-the above 2 pics
may not move if it is converted in PDF file format)
The stills follow for easier understanding!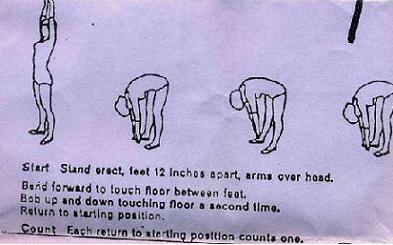 01.

FORWARD&BACKWARD BENDS:

Raise arms, bend backwards, and then forwards making one round.
Make 10 such rounds. Read what is written in the pic above!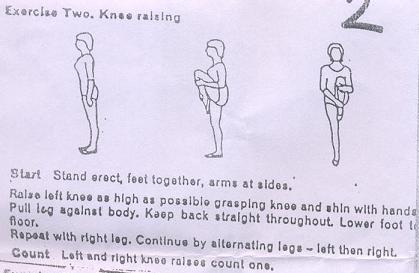 02.

KNEE RAISING & PRESSING:

Stomach Gas reliever- Good for stomach muscles-
Helps Digestion if done for 14 days continuously without missing it!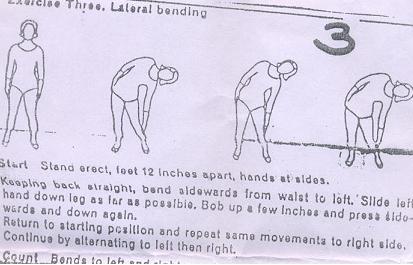 03.

LATERAL BENDING:
Wonderful exer for liver, pancreas, stomach, duodenum, and keeps
them healthier ! In women, it helps in uterus health, avoiding ovary cancer, tumours,etc ! (not meant for pregnant ladies)


04. ARMS SWINGING AND CIRCLING:

stretch and put out your arms as free and as long
as possible and swing them in circles
around your shoulders-
Right-Front fall- swinging 10 rounds
Right-Backfall-swinging 10 rounds
Same with Left hand.
So very helpful in giving you a fresh feeling
of well being! Thats because you enlarge
your lungs and breathing areas!
The more you take oxygen, it circulates in your
blood and helps you feel fresh instantly.
Only if you do it daily, for 7 days atleast,
then this phenomenon can be observed!



HOW USEFUL THESE ARE ?!!

Will it take away most of my precious time!??

The above exercises may not take much of your time.
They take normally 20min or less.

What does it promise if I do it daily for 7 days in the beginning
and then If I like, If I continue it daily for my life??

They give you immense benefits.
They supply blood evenly to all the parts of your body.
They help you streamline your gait and body movement
and body talk, or body gestures.
They help you undertake any work with ease.
You will know when you stop it for a week!!
They may indirectly protect you from all diseases
by enhancing your immunity, if your nutrition has also good
quality in it additionally.
You wont feel tired easily if I do it for ten min daily in the morning.

01. You dont have to do like yoga spending more time.
02. These are not reclining like Yoga and are stationary
but are dynamic exercises just like aerobics;
so that you can have music also with it.
03. If you want to do it daily without negligence or lazyness, simply Form a community of your own age group on your terrace and do it daily! Many will be happy to join you. If no one does, do not stop
pls continue like I did.
04. Removes backpain permanently and allows you to use bike
for the next 1 lac km like I did !
I remember my doc saying :
"Dont touch the bike till your death! Ouch!!"

05.Overall digestion improvement,
chest, lungs and all parts in general get toned up !!


KEEP IT UP ! DONT BE A CAF DROP OUT !

YOUR HEALTH IS YOUR WEALTH!

BETTER THAN ALL THE TRILLIONAIRES OF THE EARTH!

ACHIEVE ALL YOUR AMBITIONS AND DREAMS!

BECAUSE YOU WILL HAVE THE CANVASS OF HEALTH

to support you from behind in all your missions.

IF YOU DO THESE DAILY & SURELY!

Whereas,

With Ill Health, all our dreams crumble!

We become a burden on others!!

We may not be able to achieve even a small result

if our health does not permit!!
MAKE A ROUTINE HABIT OF IT!

THEN, IT IS EASIER DONE THAN ATTEMPTED !



WISHING YOU GOOD HEALTH !

-D.PARAMESWARAN,sunflowerdance.com

Your health for less than a nickel!